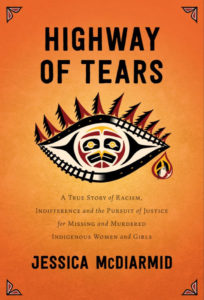 Cover Artist:
Kym Gouchie is a singer-songwriter and visual artist from the Lheidli T'enneh Nation, also known as Prince George, British Columbia. A mother of four and grandmother of nine, Kym is an arts and culture advisor and advocate for Indigenous people. She is a spokeswoman and member of the Aboriginal School District Elders and Knowledge Keepers Committee in the Prince George region.
For more information about the cover image, or to purchase a limited edition print, visit Kym's website at https://kymgouchie.com/art-store

About the Book
For decades, Indigenous women and girls have gone missing or been found murdered along an isolated stretch of highway in northwestern British Columbia. The highway is known as the Highway of Tears, and it has come to symbolize a national crisis.
Journalist Jessica McDiarmid meticulously investigates the devastating effect these tragedies have had on the families of the victims and their communities, and how systemic racism and indifference has created a climate where Indigenous women and girls are over-policed, yet under-protected. Through interviews with those closest to the victims–mothers and fathers, siblings and friends–McDiarmid provides an intimate, first-hand account of their loss and unflagging fight for justice. Examining the historically fraught social and cultural tensions between settlers and Indigenous peoples in the region, McDiarmid links these cases to others across Canada–now estimated to number up to 4,000–contextualizing them within a broader examination of the undervaluing of Indigenous lives in the country.
Highway of Tears is a piercing exploration of our ongoing failure to provide justice for missing and murdered Indigenous women and girls, and testament to their families and communities' unwavering determination to find it.

---
What people are saying about Highway of Tears
"McDiarmid contends that endemic racism accounts for the meager rate of police investigations and arrests, as it does for so many ills in the First Nations communities of the region. These murder cases expose systemic problems involving "race, poverty, women's rights, the isolation of our youth and our justice system," one tribal council declared. By examining each murder within the context of Indigenous identity and regional hardships, McDiarmid addresses these very issues, finding reasons to look for the deeper roots of each act of violence." —The New York Times

"In this important book, Jessica McDiarmid offers a history of what she calls 'Canada's dirtiest secret" that is both methodical and moving, yet filled with a quiet determination for justice. . . . She writes poetically and lovingly of the region, while revealing the terrible losses concealed by its dark forests and lonely sections of road. . . . McDiarmid has done great service to both the victims and their families in telling the stories of these lives and the pain left behind by their loss—stories every Canadian should know and remember." — Winnipeg Free Press

"Canadian journalist McDiarmid debuts with a heart-wrenching account of the more than 1,200 indigenous women and girls who have gone missing or were found murdered along Highway 16. . . . This moving, well-sourced book is essential reading for anyone who cares about social injustice." —Publishers Weekly
"[An] incredible work of investigative journalism." —The Week
"Powerful. . . . Canadian journalist and first-time author McDiarmid, who grew up near the highway, traces in agonizing detail the lives and fates of several of those women, but the narrative is much more than just a list of tragedies. . . . A difficult but essential read." —Kirkus Reviews

"Highway of Tears shines a much-needed spotlight on the crimes committed along infamous Highway 16 in British Columbia, Canada, and the systemic bias that pervaded police investigations over decades." —Library Journal
---
---